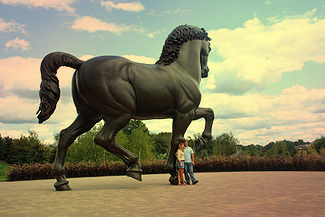 An enormous horse towers over the surrounding landscape at the Frederik Meijer Gardens & Sculpture Park on the outskirts of Grand Rapids, Michigan. It's called The American Horse, cast in bronze by sculptor Nina Akamu in 1998 with a 3-ton stainless steel armature for added stability. Standing 24 feet high and weighing in at a total of 15 tons, the horse balances on just two legs, yet is constructed to withstand high winds and even earthquakes. Its muscular appearance and striking pose remind the viewer of the Italian Renaissance, perhaps even Leonardo da Vinci–and rightly so.
The Duke of Milan, Ludovico Sforza, commissioned Leonardo to create the world's largest equestrian statue in 1482. It was to be called only Il Cavallo, a monument to the Duke's father. Over the course of the next 17 years Leonardo drew sketches of the horse, constructed a 24-foot clay model, and amassed several tons of bronze in preparation for the final casting. But then politics got in the way of art–faced with a French invasion, the Duke confiscated the bronze to cast cannons. Even so, his firepower proved insufficient. The French, victorious, invaded Milan. Bored French crossbowmen used Leonardo's model as target practice until the clay horse fell to pieces. Leonardo never attempted to remake his mighty horse. His notebooks containing the sketches were lost and Il Cavallo faded into legend.
But in 1966, several of Leonardo's lost notebooks were discovered in the Biblioteca Nacional in Madrid, while others fell into the hands of the British royal family. A decade later, National Geographic Magazine ran a story on the unrealized sculpture, entitled "The Horse that Never Was." Retired airline pilot and art collector Charles Dent read the article and was immediately enthralled. He devoted the rest of his life to the creation of a tribute sculpture fashioned after Leonardo's original ideas, founding a corporation for fundraising and building a life-sized clay model of the eventual horse. Dent's death in 1994 did not put an end to his vision. A full-height version was cast, but structural problems necessitated that the horse be resculpted.
Thanks to additional funding by billionaire retail-chain founder Frederik Meijer, Nina Akamu was hired, first to improve the original horse and then to begin it again from scratch, combining Leonardo's drawings with the study of equine anatomy. Two 24-foot horses were cast. The first was unveiled in Milan on September 10, 1999, exactly 500 years after the destruction of Leonardo's original. The second found its home in Grand Rapids. Smaller versions were placed in the Pennsylvania hometown of Charles Dent and the Italian city of Vinci, Leonardo's eponymous birthplace. An eight-foot version entitled Homage to Leonardo is located in the Meijer Gardens as well, in addition to a tiny replica meant to be handled by blind visitors unable to take in the grandeur of the three-storey original.