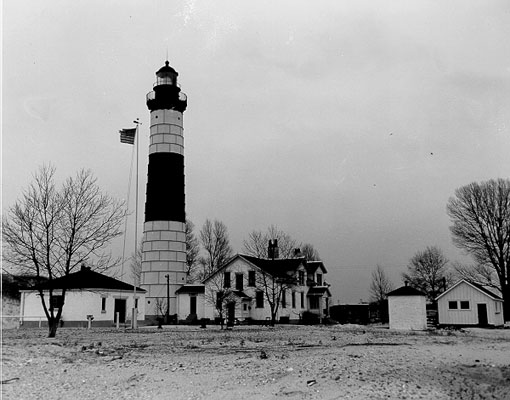 At the vertex of the curve described by Luddington State Park's shoreline stands the Big Sable Point Lighthouse. Standing 112 feet high, the lighthouse still operates today, and is maintained by volunteers from the Sable Points Lighthouse Keepers Association. The view from the top overlooks the beautiful dunes and jack pines of the park to one side, and the waters of Lake Michigan bordered by an endless pristine beach of golden sand on the other.
Following a series of fatal shipwrecks along the Michigan coast in the 1850s, Congress appropriated money for the construction of a lighthouse at Big Sable Point. An Anglicization of the original Grande Pointe au Sable, the word Sable is still pronounced roughly like the French, rhyming with "wobble." The lighthouse was not actually built until after the Civil War, in 1867, originally of yellow brick. At the turn of the century the tower was given a metal sheathing to protect it from erosion, which is today painted in 30-foot black and white bands. The Big Sable Point Light didn't switch from oil wicks to electricity until 1949, the last Great Lakes lighthouse to make the transition. The advent of electric lighthouses made the job of keeper obsolete, but the SPLKA continues to operate at Big Sable, maintaining the buildings and providing tours to visitors.
Lighthouses are often said to be haunted, and Big Sable is no exception. Previous keepers often noted the unaccountable smell of baking bread, and psychics' hair reportedly stands on end when passing through one of the doorways in the second story of the keeper's quarters, which is now the volunteers' residence and off-limits to the public. A strange photograph of the lighthouse that may contain an image of a ghost hangs near the entryway, and a book in the gift-shop was once seen to levitate across the room by multiple observers.
Visitors can make the two-mile trek through the park to merely look at Big Sable year-round, but from May to October the tower and keeper's quarters are open daily, allowing for a much richer experience. You can watch a documentary about the historic lighthouse in the video room, look at period artifacts on display or purchase souvenirs in what was once the keepers' living room. And for a $3 donation, you can climb the 130 steps to the top and take in the stunning view.
Address:
5611 N Lighthouse
Ludington, MI 49431